Back in the "old days," before the Internet made it possible to personalize virtually anything and everything, if you wanted to add some holiday cheer to the outside of your Christmas mailing, you had to wait for the US Postal Service to release their annual Christmas stamps. But those days are long gone.
Now, rather than relying on the USPS for a handful of holiday postage stamp designs, you can create your own or select from a large variety of Christmas postage stamps available online, such as the Santa stamp shown above. Of course, you pay a bit more for custom U.S. postage stamps. But if you feel like splurging a bit for some once-a-year fun, custom Christmas postage stamps are a great way to add sparkle to your envelopes. It's simple and fun.
Here's how to do it. Surf over to Zazzle.com or Photo Stamps.com and follow these instructions. Be sure to have a photo or image saved as a .jpg image to your computer before you begin. If you don't have a special photo or artwork you'd like to use, you can also simply purchase one of the many designs available at Zazzle, such as the Santa stamp above or the North Pole stamp below.
How to Create a Christmas Stamp at Zazzle.com from your own photos or artwork
1. From the homepage, select "And 100s more" from the CREATE tab in the top navigation bar.
2. Scroll down until you see "Create custom postage."
3. In the "Get Started" popup window, click the Select Image link and then click the My Computer button to browse for your file. When you've found it, select Add Image.
4. Add text, if you like, in the optional text box.
5. Click the "Make it Now" button to see the preview.
6. Make any changes you like with the "Customize It" box that allows you to move the image, change text fonts and other tasks.
7. When you're satisfied, click Add to Cart and follow the checkout process. You're done!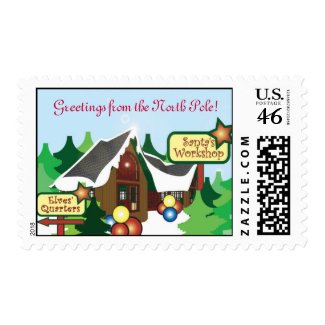 How to Create a Christmas Stamp at PhotoStamps.com from your own photos or artwork
1. From the homepage, click Create PhotoStamps.
2. Click the Browse button to find the image on your computer and hit Next to see the preview.
3. Customize your stamp by zooming, rotating, changing the text color or the border and then click Continue.
4. Follow the checkout process. That's it!